Finding yourself the best scope could be intimidating. It may seem like a lengthy process since there are so many to choose from. 
However, we have compiled this complete article with all the information you need about the best scopes, including reviews, FAQs, and much more. 
Read the guide carefully, it could help you narrow down your list. You might be able to decide which scope is the best for you. 
How Do I Pick the Best Scope?
There are a number of things you should keep in mind before purchasing a scope for yourself. I will list them down for you.
Lens
A lens could help you see your target from a long distance more clearly, which is why it is important to invest in a good lens.
You could choose between a fixed or a variable lens. A fixed lens could help if you are viewing your target from a fixed range. However, a variable lens allows you to see from a variety of ranges and angles. 
Moreover, a magnifying lens could improve your visibility and clarity. It could increase your magnification range as well. This type of lens is also referred to as an objective lens.
An objective lens allows powerful magnification and is mostly used on rifle scopes. However, it is important to understand if your objective lens is big, it will require a higher mounting ring. Otherwise, you could have a problem adjusting your cheek.
In case you are unable to align your eye with the target, you may not be able to shoot at a long distance with accuracy. 
Glass Quality
Good glass quality is crucial for long-range scopes. This is mainly because high-quality glass could help you view distant objects more clearly.
I would advise you to pick a low dispersion glass as it will give you the best quality image. 
Moreover, a good quality glass will provide a bright and crisp image. This could help you view your target more easily. 
Glass Coatings
A good quality glass coating will help you minimize the amount of glare. Moreover, you could be able to maximize the amount of brightness for a clearer view. 
There are 4 different types of glass coatings, I will break them down for you.
Coated glass: this is when the scope has a single layer of coating on a lens. 
Fully Coated: this is when all the lenses have a layer of coating on them.
Multi-coating: this is when the scope has multiple layers of coatings on the surface of one or more lenses. 
Fully Multi-Coated: this is when multiple layers of coatings are applied on all the lenses. 
I would suggest you to get a multi-coated lens as it could also help you with low-light shots.
Eye Relief
An eye relief could prevent the image from appearing blurred when your eye is too close to the scope. This is typically the distance between the rear lens and your eye. If there is too much distance, the image will appear with a red dot in the center of your lens.
If you want an eye relief that is shorter, I would advise you to get a scope with more magnification.
Reticles
Reticles could be one of the best solutions if you want to shoot your target from a longer field of view. Moreover, these may be beneficial if your target is relatively smaller.
Turrets
A turret could help you adjust the reticles for more precision. This is mainly done with the help of dials which are located on the top and side of the scope rifle. Turrets are easy to use and great with long-range shooting. 
Turrets are also beneficial for hunters who require night vision. However, turrets are a high-end feature and could significantly increase the cost of a rifle scope.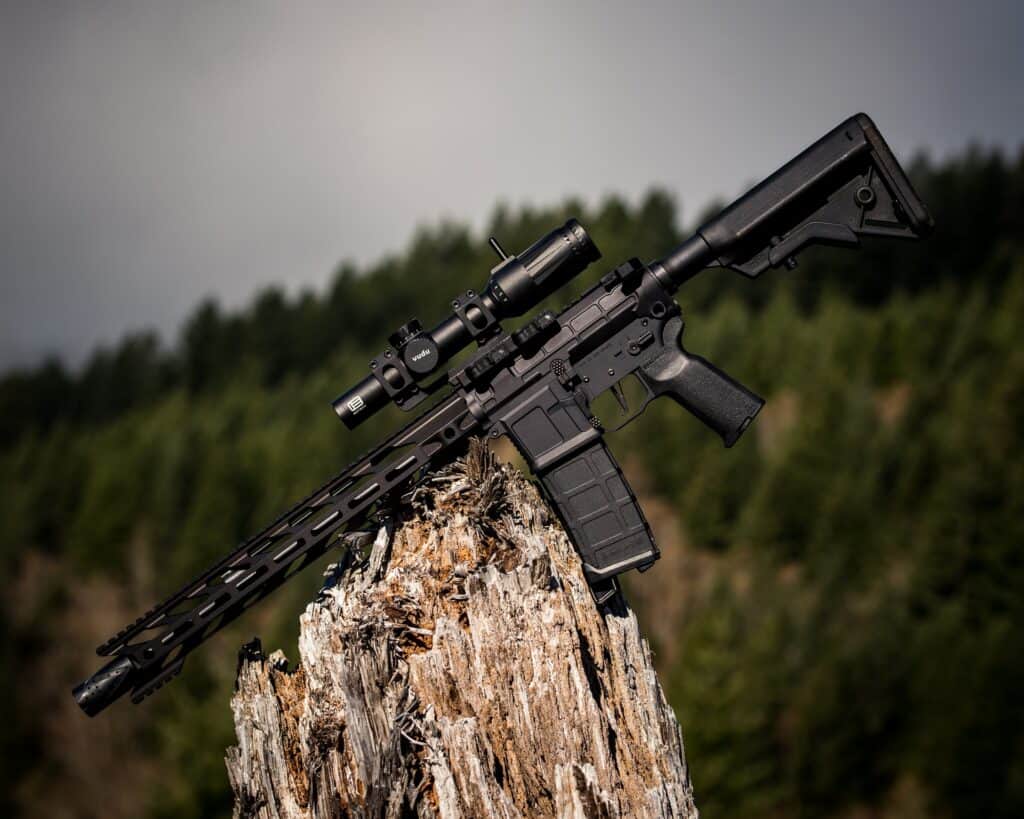 Frequently Asked Questions (FAQs)
Should I get a parallax for my hunting scope?
The best rifle and hunting scope could come with a built-in parallax. However, you could purchase one for the best hunting experience. A parallax adjustment will help focus the target from a specific distance.
How many types of focal planes does a rifle scope have?
There are two types of focal planes: 
First focal plane: This means that the reticle will change if the magnification will change. However, the hash marks will indicate the same distance regardless of the magnification. 
Second focal plane: This is when the reticle remains the same even if the magnification changes. However, your hash marks will indicate a different distance based on the amount of magnification.
What type of a scope should I get for long-range shooting?
There are a number of features your long-range rifle and scope should have.
These include: 
A variable zoom
Parallax
Windage
Elevation Adjustment features
Diopter
A red dot feature 
Long-range scope could be really expensive. However, a budget scope may not have all these features.
What is a mil dot?
High-end scopes on the market could come with this feature. This helps estimate the target's distance. These are mainly used by law-enforcements, the military, or in hunting scopes.
Is an illuminated reticle necessary?
It could help in poor light conditions. However, it is not necessary. I would not advise it for daytime shooting. 
Should I buy a cover for my scopes?
A rifle scope could be really expensive, which is why it is important to keep them protected. A cover could help you prevent your scopes from getting scratched or even damaged.
I would suggest you to get a flip-open cover. This way, you won't have to worry about losing your scope covers. 
Conclusion
The internet is filled with thousands of scopes that could fit your criteria. However, picking the best scope for your need could be confusing. I would advise you to do thorough research before purchasing a scope for yourself.
Read the article carefully in order to be well informed before purchasing for your scope. It has all the information you could need.