Chances are, if you're a hunter or enjoy shooting, you've heard about Leupold – one of America's most popular rifle scope brands.
But does Leupold really deserve all the praise it gets? To get the answer to that question, we've decided to thoroughly review one of its best-selling rifle scopes: the Leupold VX-3i.
Before we dive in deep, here's a preview of our top 3 rifle scopes.
---
Leupold VX-3i
break
The Leupold VX-3i blows away the competition in the mid-range bracket. Its exceptional performance, versatility, and compact design make it our top recommendation.
---
break
Alternate 1
break
break
---
This one's for hunters on a budget. It's well-built, fully-featured, and great for long-range situations.
---
Quick Summary of the Main Product
---
The VX-3i is the upgraded version of the VX-3, and is one of the newer additions to the lineup of Leupold rifle scopes. While there isn't too much of a difference in the design and dimensions of the two scopes, the VX-3i does boast an improved internal system.
One of the main reasons the VX-3i has attracted attention is its exceptional performance in low-light conditions, which makes it stand out in its price range. So, the scope is for serious hunters who value every minute of daylight.
The Leupold VX-3i is a pretty versatile rifle scope, but this doesn't go to say that it's ideal for taking shots over a large distance. If the latter is your priority, you might be better off looking elsewhere.
---
Features and Benefits
---
Reticle
Leupold offers seven different reticle patterns to choose from, with Duplex being the preferred choice for most. The reticle is crystal clear and some models even offer reticle illumination, which can be a blessing in low-light conditions. 
All of the patterns are located on the second focal plane (SFP), which means the reticle stays the same size even if magnification increases. This works best for most scenarios except those that are long-distance.
The Leupold VX-3i also features Leupold's lockable fast-focus eyepiece, which makes it easier to focus the reticle and lock it in place. As a result, you'll find precision while shooting.
Light Transmission
The Twilight Max Light Management System is one of the main selling points of the Leupold VX-3i. 
But how exactly does it help you? 
It eliminates up to 85% of stray light and gives you up to 20 minutes of extra hunting light. Put simply, it reduces glare and notably improves clarity.
Light transmission is further improved by Leupold's DiamondCoat 2, which helps with producing images that are brighter and higher in contrast.
So, if you plan to hunt certain types of prey that are only out when it's somewhat dark, this might be the feature that seals the deal for you.
Magnification Range
With the number of different models available, it's pretty likely you'll find one with the magnification settings you need. The lowest magnification on a VX-3i model is 1.5-5 while the highest is 8.5-25.
The model with a magnification range of 3.5-10 is preferred by most people, as it's easy to use in various hunting situations.
As you might already have noticed, the magnification on the Leupold VX-3i is variable. This means you're not restricted to a certain level regardless of the model you buy.
Durability
Leupold scopes are known for their durability, and the VX-3i doesn't fail to impress either.
It has an aircraft-quality aluminum build. It's made to survive extreme weather conditions and is appropriately sealed to make it waterproof and fogproof.
Leupold's Twin Bias Spring Erector System reduces system backlash. This keeps the scope working for even longer. The DiamondCoat 2 also protects the lens system from scratches and nicks.
That's not all. The VX-3i, like other Leupold rifle scopes, is covered by a lifetime guarantee as well. So if you do face a problem, Leupold promises to repair or replace it for free, regardless of how long you've owned it.
Weight
You may have expected durability to come at the cost of weight. However, this isn't the case with the Leupold VX-3i.
We really liked how Leupold managed to fit so many qualities in a lightweight package. The 3.5-10 model only weighs 12.6 oz and is 12.6 inches long. The maintube is only 1 inch in diameter. So it's pretty easy to pack and carry along.
These features will also give you the freedom to mount the scope in different ways. This may be useful if you plan to use it for serious hunting.
Pros
The VX-3i is available in multiple models and different reticle patterns, which makes the scope suitable for numerous targets
It is constructed with longevity in mind; it's waterproof, fogproof, and shockproof
The lenses are fully multi-coated. Minimal light is lost during transmission, so the image produced is notably bright
The scope is exceptionally lightweight. So it isn't a hindrance to either moderate or long-distance hunting. Plus, it can easily be packed away or mounted
It has a generous eye relief; it ranges from 3.6 to 4.5 inches. This will allow you to use the scope with shades as well, and heavy recoil won't be a problem
The glass is of decent quality, especially for the price. This results in a clear and crisp view, allowing you to spot smaller targets easily
The eyepiece focuses pretty fast and the magnification can be fluently adjusted, letting you take quick shots
Cons
It offers a field of view that's somewhat small. This can make it harder to identify targets over a large area and hit moving targets while hunting
The turrets can't be reset to zero and are hard to adjust. This wastes time and limits the scope in long-distance situations
Social Proof
We browsed through the multitude of reviews of the Leupold VX-3i to find out what customers have been saying after using the scope.
Most of the models of the VX-3i have an extraordinarily positive rating. The 3.5-10 model for one, has an overall rating of 4.9 out of 5 on Amazon; 92% of the customers gave it a full rating.
The customers had similar experiences. They found the scope to be worth their money and time, with all of its features working as advertised. Some even claimed that the Leupold VX-3i was an upgrade to their previous, more expensive rifle scopes.
---
More Recommendations!
---
#1: Alternative for Long-range Shooting to Leupold Rifle Scope – Vortex Optics Diamondback 6-24×50 Review
---
break
break
break
The second focal plane reticle of the VX-3i limits it in terms of long-distance shooting. The Vortex Diamondback 6-24×50 is a suitable alternative as it surprisingly comes at a similar price.
What really made the Vortex Diamondback stand out was its glass. We really liked how it managed to maintain clarity throughout the wide magnification range.
The scope was also perfect at tracking. The reticle didn't get in the way of objects and the image produced was sharp and distinct.
Features of Vortex Optics Diamondback 6-24×50
6-24x magnification range
50mm objective lens
First focal plane reticle
14.5 inches long
24.6 oz in weight
10 yards to infinity parallax setting
Multi-coated lenses
O-ring seals
Argon purification
Pros
Affordable
Great glass for a budget scope
Turrets can be reset to zero which saves time
Decent performance in low-light conditions
Waterproof, fogproof, and shockproof
Vortex warranty
Cons
Short eye-relief
Overall weight a little too heavy for some
Turrets aren't the best at tracking
The alternative for long-range shooting to Leupold rifle scope is Vortex Diamondback 6-24×50 because of its first focal plane reticle and durability.
---
#2: Alternative for Tactical Shooting to Leupold Rifle Scope – Nikon P-223 3-9×40 Review 
---
break
break
break
The VX-3i is pretty flexible, referring to the ways it can be used. However, the Nikon P-223 is a better option for target shooting and short-range hunting.
Considering the price of the scope, we were really impressed by how accurate the scope was. The objective lens offered clarity even in low light. We also found the scope's extended eye-relief to be a valuable feature, and using it with an AR-15 was a comfortable experience.
On top of that, the turrets were well-built and could be adjusted in a precise and hassle-free manner.
Features of Nikon P-223 3-9×40
3-9x magnification range
40mm objective lens
Second focal plane reticle
12.4 inches long
16.9 oz in weight
100-yard parallax setting
Multi-coated lenses
O-ring sealed
Pros
Cheap
Versatile
BDC 600 offers accuracy
Durable
Waterproof and Fogproof
Generous eye-relief
Turrets can be reset to zero which saves time
Great light transmission through the lens system
Cons
Not suitable for larger caliber rifles
Doesn't offer parallax adjustment
Maximum magnification of 9x may be low for some
The alternative for tactical shooting to Leupold rifle scope is Nikon P-223 3-9×40 because it offers versatility and accuracy at a low price.
---
Buyers' Guide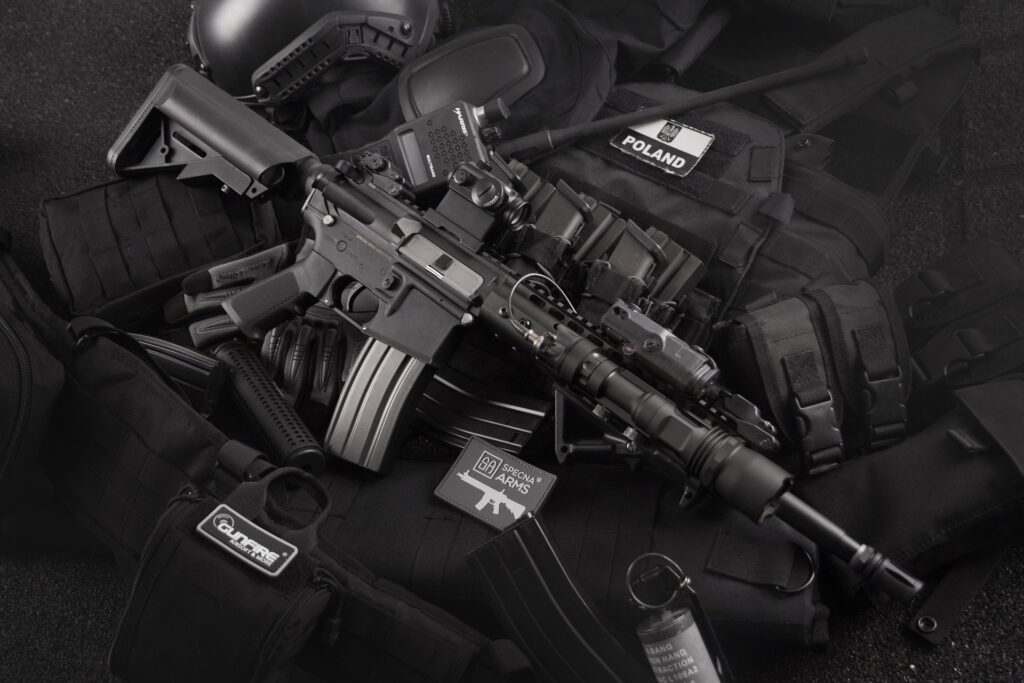 Before you make your final decision though, here are some things that you need to be considering.
Magnification
The magnification of a scope can be fixed or variable. While a fixed power scope usually offers a clearer view, a variable scope can be used in multiple situations.
The numbers before the 'x' tell you the scope's magnification range. The range suitable for you really depends on how you plan to use the scope. A range similar to 3-9x is usually fine for most.
If you're unsure, you can always get a rifle scope with a wider magnification range. However, those do come at a hefty price.
Objective Lens
The number that comes after the 'x' is the diameter of the objective lens. The objective lens is the glass that lets light into the scope to produce the image you see. 
But how will it affect your experience?
The larger the objective lens, the brighter the image will be. So a large objective lens can be quite useful while hunting in low-light conditions.
However, rifle scopes with a large objective lens are heavy and bulky. These also need to be mounted higher, which makes it tougher to aim. The standard size of an objective lens ranges from 40 to 44mm.
Focal Plane
The reticle can either be located on the first focal plane (FFP) or the second focal plane (SFP).
An FFP reticle enlarges as you zoom in. So if you prioritize long-distance hunting, FFP scopes would be more suitable. These scopes are usually more expensive.
An SFP reticle stays the same size regardless of the magnification level. This makes it easier to see through the scope on lower magnification levels. If you have a general range in mind, an SFP scope may be your best bet.
Field of View
Field of view (FOV) refers to the size of the area you can see when you look through a rifle scope. It's generally measured in feet at 100 yards.
When you increase the magnification of a scope, the FOV decreases. This will make it harder for you to spot targets and hit them while hunting.
If that's something you plan on doing, you're going to need a scope that offers a wide FOV.
Eye Relief
Eye relief refers to the distance between your eye and the rear lens of the rifle scope.
It's incredibly important to know a scope's eye relief before using it on a rifle. 
Why? 
If the rifle recoils and the scope doesn't have sufficient eye relief, you might end up with a bruised eye.
Typically, the eye relief of a scope is around 4 inches. However, you might need even longer eye relief scopes on heavier rifles.
Frequently Asked Questions
break
What magnification is suitable for 1000 yards?
16x magnification is suitable for shooting targets 1000 yards away. Most people prefer a scope with a magnification range of 18-25x.
If the FOV is of your concern though, you can make do with lower magnification power.
What magnification is suitable for 500 yards?
You're going to need at least 5x magnification for shooting targets 500 yards away.
As this depends on the size of the targets, you might need more. Hence, we recommend getting a scope with a magnification range of around 3-12x.
How far can a 16x scope be used to shoot?
A scope with a magnification power of 16x can be used to shoot out to around 1000 yards.
Depending on the size of your target, you'll be able to shoot out to at least 800 yards and up to 1200 yards.
Where exactly are Leupold scopes made?
Every part of Leupold rifle scopes is made in Oregon. They're entirely manufactured in the USA, and the USA only.
So if you do come across a Leupold scope being shipped from another country, it's most likely a fake product.
What is the best Leupold scope for deer hunting?
The best Leupold scope for deer hunting is the Leupold VX-R.
Its crystal clear glass, durability, and magnification range of 4-12x makes it the ideal choice.
Does Leupold have a lifetime warranty?
Yes, Leupold does indeed offer a full lifetime guarantee. If any of your Leupold rifle scopes don't work as stated, Leupold promises to replace or repair them for free. You don't need a warranty card, so it's applicable even if you aren't the first owner and there's no time limit.
And these aren't empty words. Leupold's customer service has a positive track record.
Wrapping Things Up…
To sum it all up, the Leupold VX-3i is a second focal plane scope which has a small FOV. Hence, it isn't the best option if you're looking for a scope to take long-distance shots.
However, the VX-3i does uphold Leupold's reputation. If you're looking for a low-light scope that will withstand the test of time and is lightweight, we definitely recommend trying out the feature-packed VX-3i yourself.