This article will answer your question about Bushnell Scopes and where they are made.

So, let's get into it!
Where are Bushnell scopes made?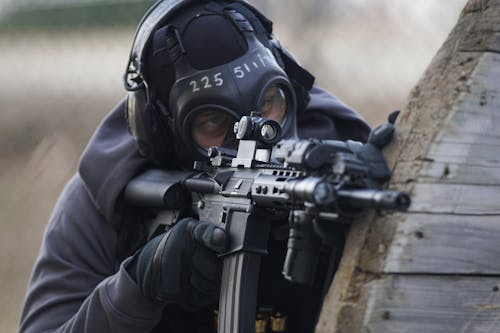 Where are Bushnell Scopes Made?
The Banner series from Bushnell is one of their oldest lines and is their most entry-level/budget-friendly scope series. The Banner Series is made in China.
Bushnell scopes are made in South Korea. Bushnells are cheaper than Leupold or Nikon scopes. Bushnells are made in China and Korea.
The Banner 2 scopes are an upgraded version of Bushnell's popular Banner series of rifle scoped. The Banner 2 scopes feature significantly better glass than the original Banner scope models and are made in China.
The Prime series of scoped rifles are built on a 1-inch tube and offer better than average optical quality, while the Engage scoped rifles are built with a 1-inch tube and offer more power magnifications than the Prime series, as well as the Deploy MOA reticles.
Nitro scopes are built on a 30mm diameter tube. They offer both second and first focal planes. Nitro scopes are manufactured in South Korea, while Forge scopes are manufactured in China. Both Nitro and Forge scopes are available in several different magnification levels, ranging from 6x to 12x.
Bushnell Match Pro Scope – Mid-priced scope geared towards bench rest competitions. Made in China. Bushnell Elites Tactical – Top-of-the-line scope offered by Bushnell. Manufactured in Japan.
Rifle Scope Country of Origin
A country of origin label is required by law when importing goods into the United States. This is because there are many countries around the world that produce products that are similar to those produced in the United States.
For example, China produces many types of clothing that are very similar to what we make here in the United States. In order to protect American jobs, the United States government requires that these Chinese-made clothes be labeled as such.
The United States government requires products to be marked as originating from the country where the component parts were produced. This rule applies to items such as clothing, toys, electronics, etc.
Bushnell Elite Tactical Scope 4-30 is manufactured by Bushnell Elite Tactical Scopes (Japan). This product is assembled in the USA.
Most rifle scopes sold in America are made overseas. There are fewer American-made riflescopes than ever before.
Are Bushnell scopes made in China?
Some scopes are made in China, but most are made in South Korea and/or Japan.
Are Bushnell scopes made in the USA?
None of the Bushnell lines are currently manufactured in the USA. All of them are made in China, South Korea, or Japan. Their top-tier scopes come from Japan, but their mid-range models come from either China or South Korea.
Which Bushnell Scopes are Made in Japan?
The company has been making telescopes since 1885. It was bought by Celestron in 1988, which was then sold to Orion Telescopes & Binoculars in 2006. In 2010, Orion bought back the brand name from Bushnell.
Are Burris scopes any good?
Burris scopes are better than Leupold's because they have more eye relief.
Are Burris scopes made in the USA?
Burris makes guns in America.
Where are Burris Eliminator scopes made?
Burris Signature HD scoped rifles were produced in the Philippines. Burris scopes are mostly assembled in the US. Burris scopes were invented by Don Burriss who worked for Redfield Optics.
Where are Burris XTR scopes made?
Most Burris scopes are made in the Philippines. Some are still made in the United States. Beretta Holdings owns both companies.
Is Tasco owned by Bushnell?
Bushnell Performance Optics announced that it has acquired the trade name and all intellectual properties of Tasco Worldwide Inc., a privately held company funded with Wind Point Partners, a privately held investment firm.
Are Tasco scopes any good?
TASCO makes great rifle scopes. They are known for making telescopes as well, but their rifle scopes are excellent.
More Scopes that are Made in the USA…
Bushnell scopes are made by Bushnell Outdoor Optics, Inc., which was founded in 1894 and has been located at its current address since 1959. The company manufactures hunting and fishing optics, including binoculars, spotting scopes, rangefinders, riflescopes, and night vision equipment. In addition to manufacturing products, Bushnell Outdoor Optics operates retail stores throughout North America.
Leupold
Leupolds are great scopes for hunting. They are very durable and lightweight. Leupold's compete with other scopes in any price range. The VX-line and above is where the quality comes into play. The budget VX Freedom line is also clear.
Leupolds are used by elite US military snipers. You can find out more information about them here.
Trijicon
Trijicon produces quality products in the USA. Their scopes are known for being accurate and durable. Their night sights are great for hunting.
Eotech
Eotech is best known for making rugged holographic red dot sight. They make great illuminated reticle rifle scoops as well. Their red dots are popularly used on rifles and crossbows. You can get more info about them here.
Redfield
Redfield makes affordable scopes that are reliable and won't break your bank account. They are comparable to Leupolds' VX Freedom line. You can buy these scopes online or at sporting goods stores.
Nightforce
Their top-of-the-line BEEST and ATACR scoped rifles are made in the USA. Most other Nightforce scoped rifles are mainly made in Japan but assembled and tested in the USA. Nightforces are known for making high-quality long-range riflescopes.
More about Bushnell Scopes
Bushnell buys optics from different optics companies. From Bushnell, you shouldn't expect anything extra-ordinary like more expensive scopes. There are still a few US brands that make their optical products in the US, but that number has been dwindling every year. Bushnell focused on producing binoculars only when they started their optics business. The optical quality of their products is still unmatchable.

Note: The best optics that are more reliable are fixed power scopes, they usually have better quality glass and are more robust because they are simpler.
Conclusion
The bottom line is Redfield scopes are budget versions of Leupolds. They are made in the same factories as Leupolds, but they're cheaper than Leupolds. I'd rank them similar to Leupolds' VX Freedom line. You'll be hard-pressed to find these scopes anywhere else other than on Amazon.